Home Learning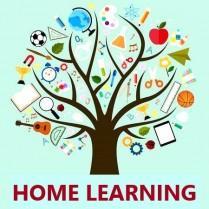 Here you will find links and resources that you could use to
support learning at home.
ALL CURRICULUM AREAS
Thousands of free video lessons, resources and activities
Videos, quizzes, games and a lot more
MATHS
Videos and activities for Years R - 6
Free workbooks to download
Interactive multiplication and division platform
Helps to teach addition, subtraction and number bonds in a fun way
Every day maths to do at home
READING
Free eBooks for children aged 3 - 11 years
Watch and listen to audio books and video clips from some of David Walliams' best-selling books
A great selection of stories to listen to online
PHONICS & SPELLING
Little Wandle (Letters and Sounds revised)
Help your child with their phonics, including how to say the sounds and write the letters
The future of spellings!
WRITING
Exciting pictures to inspire creative writing
Lots of ideas to help children read and write independently
Home Learning Resources List
If you're looking for easy and low cost indoor activities for children, here is a list of over 100 ideas. From simple activities to fun crafts that can keep kids busy during school breaks or on a rainy day. You can even cross off each one as you do them!
If you're looking for home learning ideas and activities, explore this enormous list of challenges! They cover a wide range of subjects and can all be tried without much preparation or equipment.
More challenging activity ideas for home learning.
A menu of activities to structure routine and time.
Musical home learning ideas to get creative with!
Get out and about!
Find places to go near you.
Outdoor play activities.
Activities to take outside.
Take part in a wild challenge in the natural world.
Ideas and activities to do outside.
Virtual tours and trips
Take a virtual trip around the world!